Available Now
​​Alice didn't fall down a rabbit hole. She was pushed down a staircase by a white Playboy bunny. She wakes up in Oz as the newest participant of the 27th Alice Games. If Alice can survive the journey to the Emerald Castle and select Red Queen as ruler, Oz has momentary peace and Alice can go home. If Alice dies along the way, then Oz will turn into a hellish, eternal winter.

Alice suspects there's more than that. If other Alices from Earth have already played, why is Oz still broken and frozen in time, repeating the Alice Games over and over? It's time to unveil all the secrets and make this the last Alice Games ever played.

Then she meets the knight Ace, a charming distraction and possibly a threat. Ace's past is as dark as Oz's, yet Alice's heart tells her that he's the key to ending the Alice Games forever. Falling in love is irrational because she's going home at the end, dead or alive. But oh, that smile. For once in her life, she doesn't know if she should listen to reason, or trust an emotion she's never put much credit in. With her life on the line, she can't afford to be wrong.

---
Don't go into the Fae woods; it's not safe.

After a childhood attack left Maira's legs mangled, she knew better than anyone. But when her uncle is poisoned by Fae, Maira will do anything to save him and her family's farm. Even if that means going into the woods with a slave warrior Fae she accidentally bought—with money that was supposed to buy her uncle's cure.

​Outside the safety of the Human world, Maira finds out Helios isn't a normal slave Fae. And the attack that scarred her body and emotions so badly wasn't random at all. Or finished.
---
In the Works
Fae Frost - Book Two of the Fae Eyes Series.
​As Maira and Helios's relationship grows closer, new complications stand in their way. As snow begins to fall on the summer flowers, Maira must choose to live in reality with the humans or stay in the dream of the Fae world.
​Coming Fall 2018!


---
Fae Flower - Book Three of the Fae Eyes Series.
​
Coming Fall 2018!
---
Powered by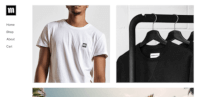 Create your own unique website with customizable templates.